Toys in Outreach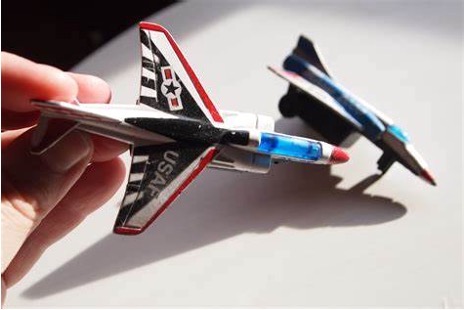 When I think back as far as I possibly can, even past the continuous stream of consciousness that I've been occupying since youth, I can see some fragmented memories from my earliest days. In the oldest one, I'm sitting on the floor of the living room. My mom and dad are both there, sitting and watching me distractedly, and I'm playing with a small blue biplane with a happy, round-faced pilot popping out of the top. In my next oldest I'm two years old and at my grandma and grandpa's house, my parents are at the hospital because I'm about to get a sister, and I'm putting together a ludicrously simple puzzle of a little boy dressed as a farmer. Your earliest memories are likely pretty similar to these: they probably feature a family member or two and, relevant for our topic, they are very likely to contain a toy.
It is easy to neglect toys as an important part of not only childhood, but life. Toys were our earliest friends and confidants. They were the tools that we first used to understand how the physical world works; to understand cause and effect; to learn about gain and loss. Toys have always been important to us. Archaeologists have unearthed the tombs of ancient Egyptian children who had been buried with their marbles, a special doll, or a wooden alligator on a string. There is an emotional connection that we make with our toys that lasts across years, which movies like Pixar's Toy Story and TV shows like Repair Shoppe use to tug at our heartstrings.
It is no surprise, then, that toys are enormously effective at stimulating interest. It's more surprising to find out just how much interest toys are capable of generating. For example, the largest toy distributor on the planet is not Mattel or Namco, but McDonald's. Each McDonald's Happy Meal comes with a toy. About one in every five sales that McDonald's makes will include a toy. In fact, while very little data has been available on the topic for some time, at the turn of the millennium McDonald's spent more on the toy in a Happy Meal than it did on the food in a Happy Meal. The ostensible point of a Happy Meal is, as the name would suggest, the meal. But the toy is of such vital import to generating interest that more is invested in it than in the food. Even the toys themselves are designed to do double-duty, typically generating interest not only in the Happy Meal but in some movie or other property, which licenses the products to McDonald's for exposure.
The toys are so effective at drawing kids' attention that legal challenges have been mounted by public health organizations to limit the ability to pair a toy with meals that don't meet certain nutritional criteria. Memorable, emotional, powerful, and persuasive: toys matter not just to kids, but to everyone.
In light of this, it is a little surprising that toys do not receive more attention when it comes to outreach. Sadly, I am not an expert on toys, but the past year has provided me a few opportunities to stand at the intersection between playthings and gospel outreach. The goal of this presentation, then, is less to instruct and more to converse about how this powerful medium can be better employed in the service of the Kingdom.
Christian Toys
My office sports a Jesus, Lord of All action figure, with loaves and fishes accessories. It was a gag gift that I've kept around and has been the subject of a lot of speculation. How does one play with a Jesus, Lord of All action figure? I imagine a group of kids in a circle, with GI Joe jumping on My Little Pony and riding into battle against Skeletor. The game is just getting good when little Timmy busts out Jesus, Lord of All. The kids all groan and throw their hands up, saying, "Well, He's back. I guess that's game over." The toy doesn't seem to work in the way that any other toy of similar make would work.
A quick google search reveals that this is hardly unique to the Jesus, Lord of All action figure. Searching for "Christian toys" reveals an array of items that are basically other toys, but Christianized. They're Legos, but Christian. Barbies, but Christian. Teddy bears, but Christian. Objects like these seem to be less about spreading the Word and more about appeasing a need to feel like we've engaged in a wholesome activity. I can imagine scenarios in which a "Jesus ♥s Me" koala is a beloved childhood toy that someone harkens back to and is reminded of their faith, but that seems a remote purpose for the object. It may be better to focus on objects that are either for the express purpose of instruction in the gospel or are being actively employed in that endeavor.
Perhaps, by that line of thought, the most successful Christian toy has been the nativity set. It certainly embodies a number of attributes that have already been discussed concerning toys while communicating a clear, gospel message. Thinking of a nativity set as a toy rather than a display explains a lot of its appeal, and perhaps shifts the way that we view it along with how it is best employed. Furthermore it may be instructive on what we would hope a Christian toy would accomplish. First it is a physical object that is easily manipulated and accordingly generates interest in its subject matter. Second it is situated in a context where it can communicate a clear story of salvation. The toy itself is insufficient to achieve this effect. Even Disneyworld was comfortable having nativity scenes around, as absent any explanation they're just pretty creches. However the toy represents an extremely powerful touchpoint such that once the story is known the object will permanently recall it.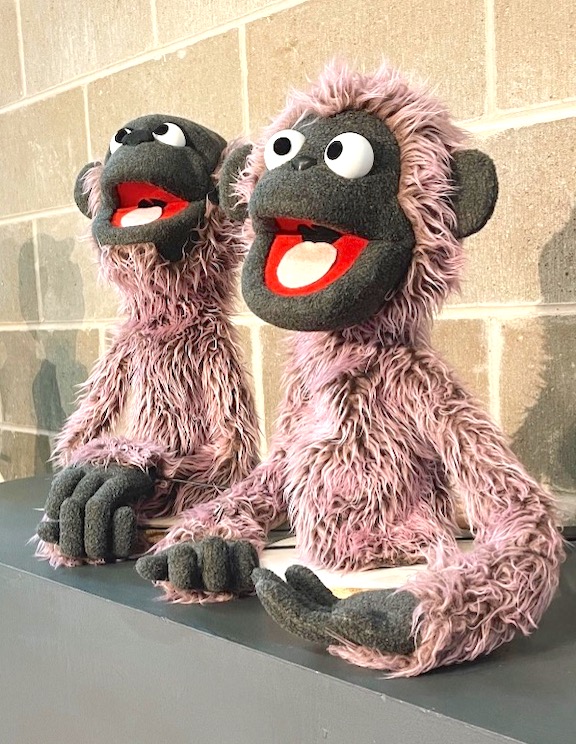 As Seen on TV
Bethany's Studio Art program hosted a recent gallery display and panel discussion called "As Seen on TV" which featured two masters. One of those masters was Dustin Yahnke, a WELS pastor in Watertown, Wisconsin, with the noteworthy artistic hobby that he makes puppets. These aren't sock puppets, either. They are constructed in a manner similar to that of a Muppet, with marionette-style arms and a hand-operated mouth. The other master was Caleb Schilling, one of the 3 sets of finalists on Season 2 of Lego Masters, and a professional map and level designer for Hypixel, a Minecraft minigame server. Scattered throughout the gallery were examples of his award-winning work, with castles, ships, and the infamous Sunshine Wagon (watch episode 6 of Lego Masters if you're curious about what that is referring to). Gallery displays are not unusual at Bethany; the Ylvisaker Fine Arts Center hosts several every semester. The dramatic majority of the time these feature Christian artists depicting serious scenes. Real work, thought, and faith is poured into producing these pieces, and they are genuinely beautiful to look at and edifying to contemplate. The "As Seen on TV" panel was unique, however, less for its content and more for its audience. For starters, it was the best attended art panel in recent memory, with all the seating going within moments and attendees left with standing room only in the halls and on the balconies. But beyond that, the front three or four rows were populated entirely by children, all of whom had ditched their parents to get a seat up front. Throughout the rest of the audience, shyer children peered past college students scribbling notes and patrons of the arts assessing the work, to look at a room full of toys being regarded with the kind of seriousness they had always given them.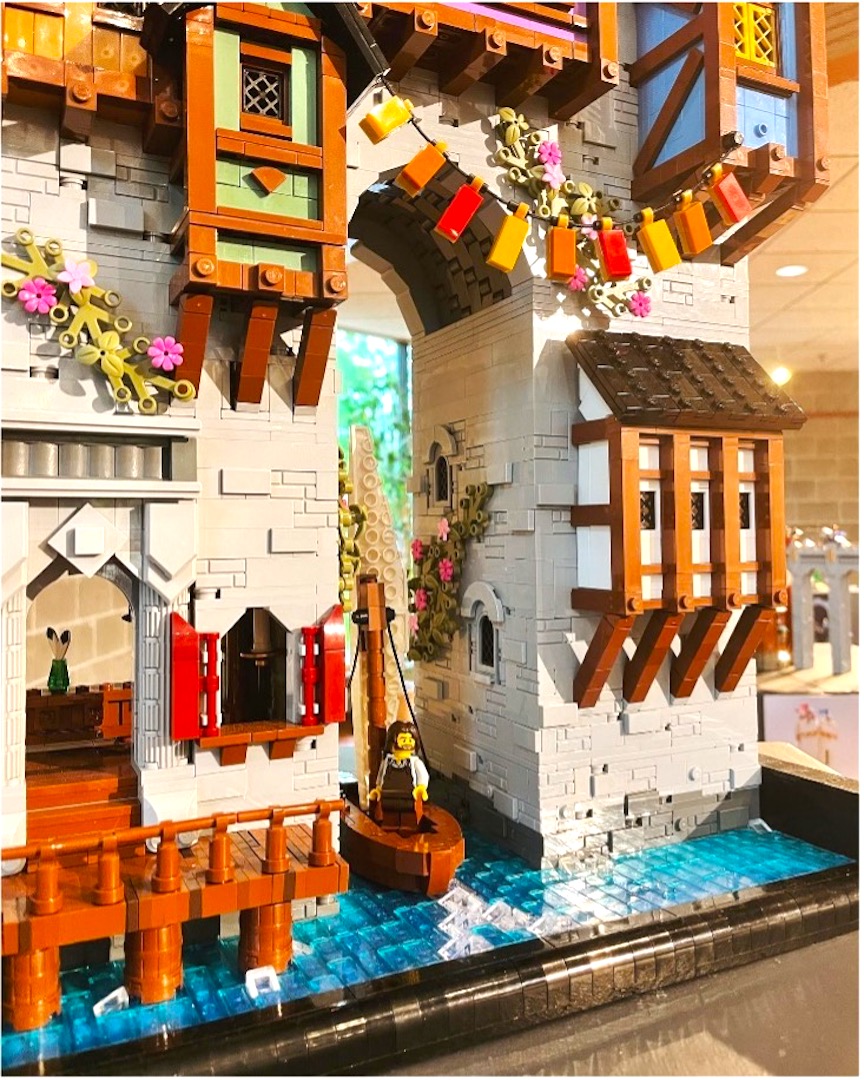 Smugglers sneak past Lego checkpoint
It is a rare day indeed to see an eight-year-old at an art lecture, but even though the panel went on for over an hour, those rows of children stayed riveted throughout. Caleb and Dustin discussed art, creativity, and Christian vocation. They talked about how they saw their work with these media as an avenue to be witnesses and share Christ. As experts in their fields, for both of them the answers came easily. Caleb saw Legos as a ready-made device for storytelling. Each of his builds, even though it was by nature static, seemed to brim with motion, especially as children circled it and interacted with it. The Lego builds each told dynamic stories, from a building in the midst of exploding, to a gatehouse with smugglers paddling through, the pieces demanded a user's attention, thought, and interest. You have never seen a first grader regard a piece of art in a gallery for so long as at this exhibit. These builds accomplish much the same thing as a nativity set: telling a dynamic story in a static but three-dimensional and interactive setting. Dustin discussed the kind of impact that a puppet can have on a child and indeed he is correct: a child will do almost anything a puppet tells them to do. Puppets turn anyone into an immediate storyteller, and make an audience of any group. He saw natural opportunities to use puppets in talking about salvation and perceived it as part of his Christian vocation to incorporate this talent into his witnessing. The entire event, a gallery display of toys at a Lutheran university presented by two faithful Christians and attended by hordes of enraptured children, spoke to the potential power of using toys in outreach.
Mini Missions
Around a year and a half ago, Dawn Klebig (I'm her husband) and I engaged in a project that is finally entering its final stages, called Mini Missions. The idea was to engage elementary school aged children more directly with the mission work that the ELS performs all over the world.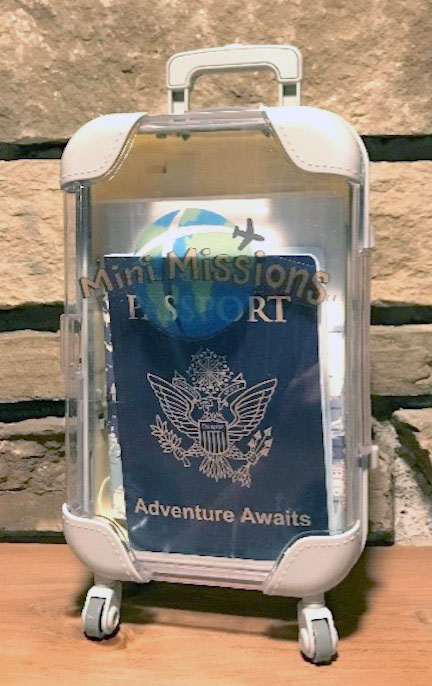 The Mini-Missions suitcase
The core of the setup is a toy piece of rolling luggage, with a large world map and passport inside of it. Each month the child who enrolled would receive a packet that contains a booklet with information about one of the ELS missions somewhere in the world. The packet would also have a "pen pal letter" written by a child involved with the mission, a sticker with the country's flag on it to put in their passport, a cross sticker to mark the mission's location on the world map, and a "souvenir" to remind them of that country (a coin, a bead, etc.). QR codes on the booklet would take kids to additional resources, like potluck recipes from that country, or videos of the congregation singing.
If all goes according to plan, Mini Missions will roll out this year and we will have considerably more to talk about concerning its impact. What we can say now, however, is that engaging a child with an interactive toy that is directly tied to the work of the Church should prove to be an effective way to stimulate interest and remind kids of their own role in this world. From an educational standpoint, modern toys grant the ability to hit auditory, visual, and kinesthetic learners simultaneously, making them effective and relevant to the entire intended audience. There is nothing inherently "Christian" about the rolling luggage, the passport, or the souvenirs. The overall narrative, that the gospel must be shared with everyone and that we all play a part in making that happen, is supported and anchored by the toys.
We didn't need to have McDonald's resources in order to make the project happen, either. Doing a project for outreach that involves toys might sound like it would be prohibitively expensive. However, the outlay for producing the Mini Missions package is surprisingly small: a year's subscription would cost only about $25 to clear all expenses. This isn't a pitch for Mini Missions (although if you're interested I'm more than happy to help out with that!); it's an encouragement to explore the kind of possibilities that adding a toy to an outreach project might open up.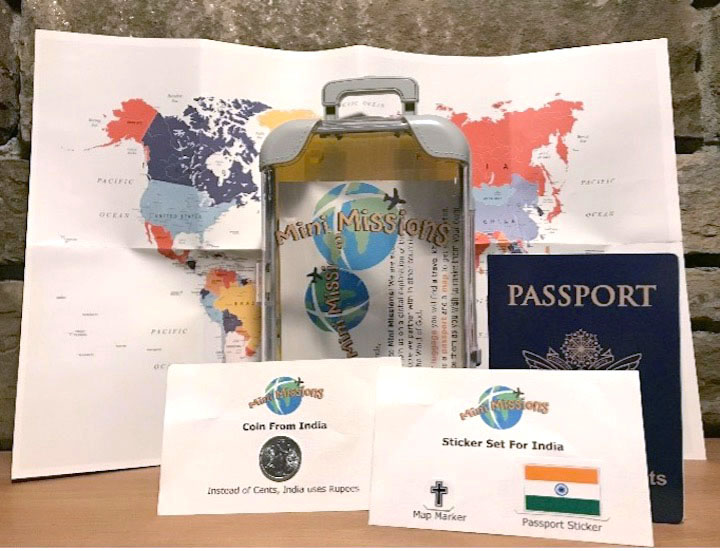 Suitcase contents
Conclusion: A Word on Fun
I remember as a kid all the red flags that would pop up whenever I would see the word "fun" used in connection with anything marketed to me. "We make road safety education fun!" "We make learning about the Bible fun!" We quickly learned that anything that needs to tell you it's fun probably isn't, and I think that's why church bodies have been a little slow to pick up on toys in their outreach, regardless of their potential impact.
However fun is not and should not be the purpose. Fun is one of the outcomes when something is engaging and interactive and the person using it is involved, curious, and excited. These are precisely the attitudes that we hope our children, and indeed anyone, would feel toward the message of the gospel, and they are reflected in how we feel about a good toy.
Mister Rogers once said, "Play is the real work of childhood." The most important topic we can teach our children about is their eternal life. Nothing is more precious, more important, or more serious, and a serious topic deserves serious support: it deserves a toy.
---
Translate this page into your language
Return to original language with "show original" button at top left.