In 2008 I was blessed to take a trip to Israel. A fellow pastor encouraged me to go saying, "It will change the way you look at your Bible. It will take it from a small 12" black and white TV to an 80" TV with high definition and surround sound!" Indeed, the week I spent in Israel did change the way I viewed the Sea of Galilee, Capernaum, Jerusalem and the Mount of Olives. I now have pictures in my head of the locations that pop up in the texts that I preach. What a blessing that trip was to me and now to the people to whom I preach!
Wouldn't it be great if every Christian could go to Israel and spend a week there to have the same experience that I did? Wouldn't it be great if every student in our catechism classes could travel to Israel to see the sights and get a feel for the land where Jesus walked? Wouldn't they all get to see the Bible in a new light and watch the stories of our salvation in 3D HD surround sound the way that I got to?
That's what I thought. So I took all of my catechumens to Israel. And I did it in 2020 of all years! — even when travel was restricted and COVID was a threat. All of us went to see the sites of Jesus' birth, of his childhood, of his ministry, of his death, and of his resurrection.
Well... not really.
But what I did do is put a virtual reality headset on my catechumens and took them there virtually. They had the opportunity to look around and wander. Clicking this way and that, one by one they explored in a virtual world the sites of our Savior's most important work. The rest of us watched what they saw mirrored to a large smartboard in the front of the classroom. We went to Bethlehem, Nazareth, Capernaum and the Sea of Galilee. We went to Jerusalem and saw the temple mount, and the two traditional sites of the crucifixion and resurrection.
How did this all begin? A member of mine had purchased an Oculus Quest virtual reality headset. He thought the technology looked like a promising way to connect people, especially the elderly in assisted living centers. After playing with it for a while, he thought of other better ways that might be easier for the elderly to connect and, perhaps, less disorienting. As he explored those new avenues, rather than sell the Oculus Quest, he gave it to me on the one condition that I would not just play games with it but figure out how to use it for ministry purposes.
After playing Vader Immortal, Down the Rabbit Hole, and a number of other immersive games (and after almost falling over on the floor while riding a virtual roller coaster standing up 😁), I saw the incredible potential of taking this technology tool into the classroom and into the church. I brainstormed and talked with others and came up with a plan. My 8th grade catechism class students were going to be my guinea pigs. I was going to try to supplement my catechism class with VR.
Not everything went quite as smoothly as I initially thought, but in the end it worked. I first spent two class periods letting the students ride virtual roller coasters. It was something fun to help them first learn the ins and outs of the headset and controllers. I had only eight students, so two one-hour class periods allowed each student to wear the headset for 15 minutes at a time.
Since this was during the COVID pandemic, we had to spend a little time in between sessions wiping down the headset with sanitizing wipes and each student had to wear a face protector between the headset and their face. An additional challenge was that wearing a mask tended to make the headset fog up. I made an allowance and had all students mask up except the one wearing the headset. And the rest of us kept a six-foot distance from the headset wearer.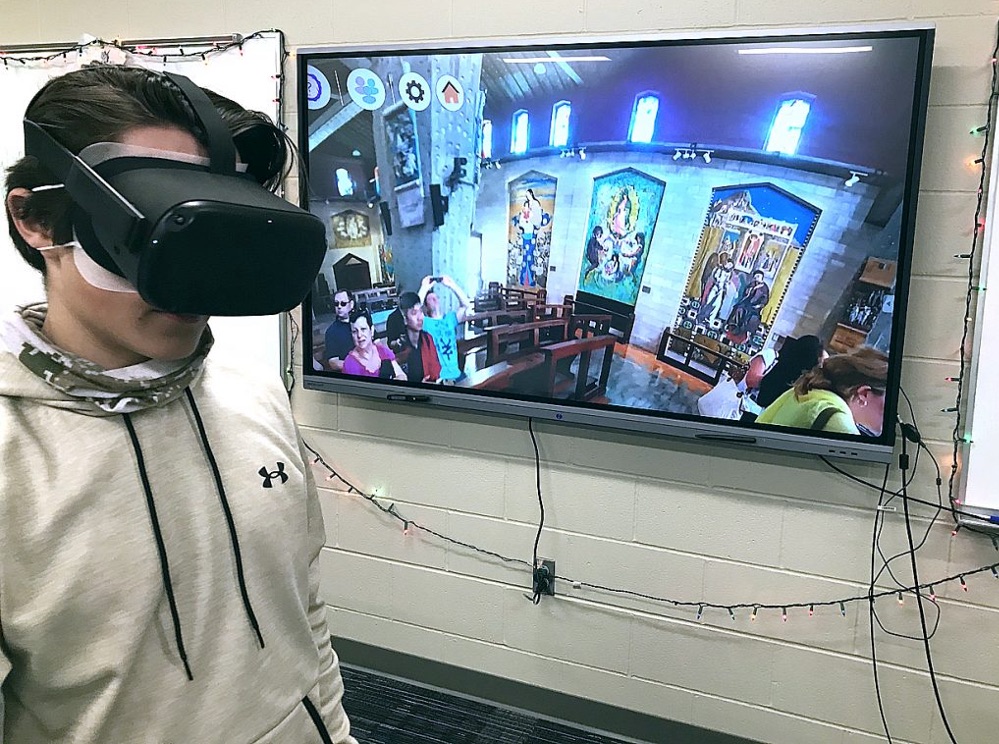 Catechumen Benjamin Price explores the Church of the Annunciation,
built where it is believed that the angel Gabriel appeared to the
Virgin Mary to announce that she would be the mother of our Savior.
(Included with parental permission.)
Another surprise to me was that one student wanted nothing to do with the headset. In talking with her she revealed a lot of apprehension that she would get dizzy and fall, that she couldn't see what other classmates were doing while she donned the headset, and that she would struggle with the controls. I let her sit on the sidelines and watch mirrored on the screen what the other students were seeing virtually. I think she still gained something from the experience.
In the end, the experiment went well. Most of my students got to see the Holy Land in an entirely new way. They could look around and explore. They could see from a fresh perspective. They could "experience" the places where Jesus walked. Was it the same as going to Israel? Certainly not. My students didn't get the geographical lay of the land. They didn't get the feel, the smell, the taste of the Holy Land. But did they get a better feel for the places where our Savior did his most important work? I believe so. More than watching a video, they got to "stand in the place" where Jesus stood. They got to "experience" the locations where our Savior did his most important work. And it is my prayer that they have a deeper appreciation for the work he has done for them.
Moving forward I hope that I can get a grant to purchase a dozen headsets to help immerse my students in the virtual world in which their Savior walked. I hope to hire a digital artist to create a number of virtual Bible stories in which my students can stand in awe of the great things our Savior God has done for us. I hope to teach the truths of our God's great love for us in an immersive way that, through sight and sound, moves the mind, the heart, the emotions to connect with the truths of our faith that will last throughout this life and into the next.
---
Translate this page into your language
Return to original language with "show original" button at top left.