A writer cannot create authentic characters. For characters to feel real, a writer must first meet them… And then, rush to write down everything they possibly can before that character has vanished from their thoughts. Simply put, a character cannot be forced to fit the writer's story. The character, who they are, is the story. Hence, sometimes, the most challenging part of writing is surrendering to what the character is telling you. As writers, we always have an idea of how we want our stories to start and end, but an authentic character can shrivel that perfectly molded structure into mere ash, shambles, the remains of what was. But if a writer is willing to take chances to discern the voice of their characters over their own, the story will likely be stronger and more captivating, real. Thus, in a way, screenwriting offers the unique opportunity to meet characters firsthand and to collaborate with them in sharing their stories. If the concept sounds crazy, it is. However, the writer-character relationship is the primary reason I enjoy and appreciate screenwriting over other aspects of production. No other process will ever provide the same windows of personal reflection, growth, and depth. After all, as the writer, you are at the heart of the story. And story is why I fell in love with screenwriting.
From the age of seven, I was always avidly watching and following dramatic television shows and concurrently writing "fan-fiction" as well as my own original stories. Yet I did not start exploring the world of screenwriting until I was in the fourth grade. I had dreamt up this huge story and was desperate to share it with whoever would listen, but in my head I could see the story unfolding only as a television series. Though the story obviously never went anywhere, it was my first experience writing a television pilot, and it sparked a passion that persists today.
Personally, screenwriting and television provide both an escape and an opportunity to grow. Going into college I was set on a legal studies and government track. However once I started taking creative writing courses as part of my generals, my writing passions and aspirations were reinvigorated. I threw myself into every textbook, article, screenplay, and video tutorial that I could find, researching and studying screenwriting whenever I had the chance. In many ways, my discipline in learning the craft later enabled me to write more efficiently and effectively because the "rules" became second nature. Similarly, as I dove into more and more research, my educational perspective evolved and I came to view my education as wholly my own. In other words, only I had the power to invest in my classes and to seek additional resources to further my knowledge. Essentially, if I wanted to be a good writer, I would have to do the work.
Consequently, during my sophomore year, I committed to completing my first official screenplay and was blessed to find a mentor in one of my English professors. Together, we built story and discussed my writing projects in weekly meetings. Then, in the spring of 2020, I studied screenwriting at the Los Angeles Film Studies Center (LAFSC) while interning at Rideback, a production company in Los Angeles . During my time at the LAFSC and Rideback, I met so many amazing people and learned the true value of a supportive and collaborative team, particularly through my experiences with the Rideback family. Yet, with the sudden uncertainties of the Covid-19 Pandemic in March, my Los Angeles dreams were cut short, at least for the time being. Though I did not know it then, God had an even better plan for my life.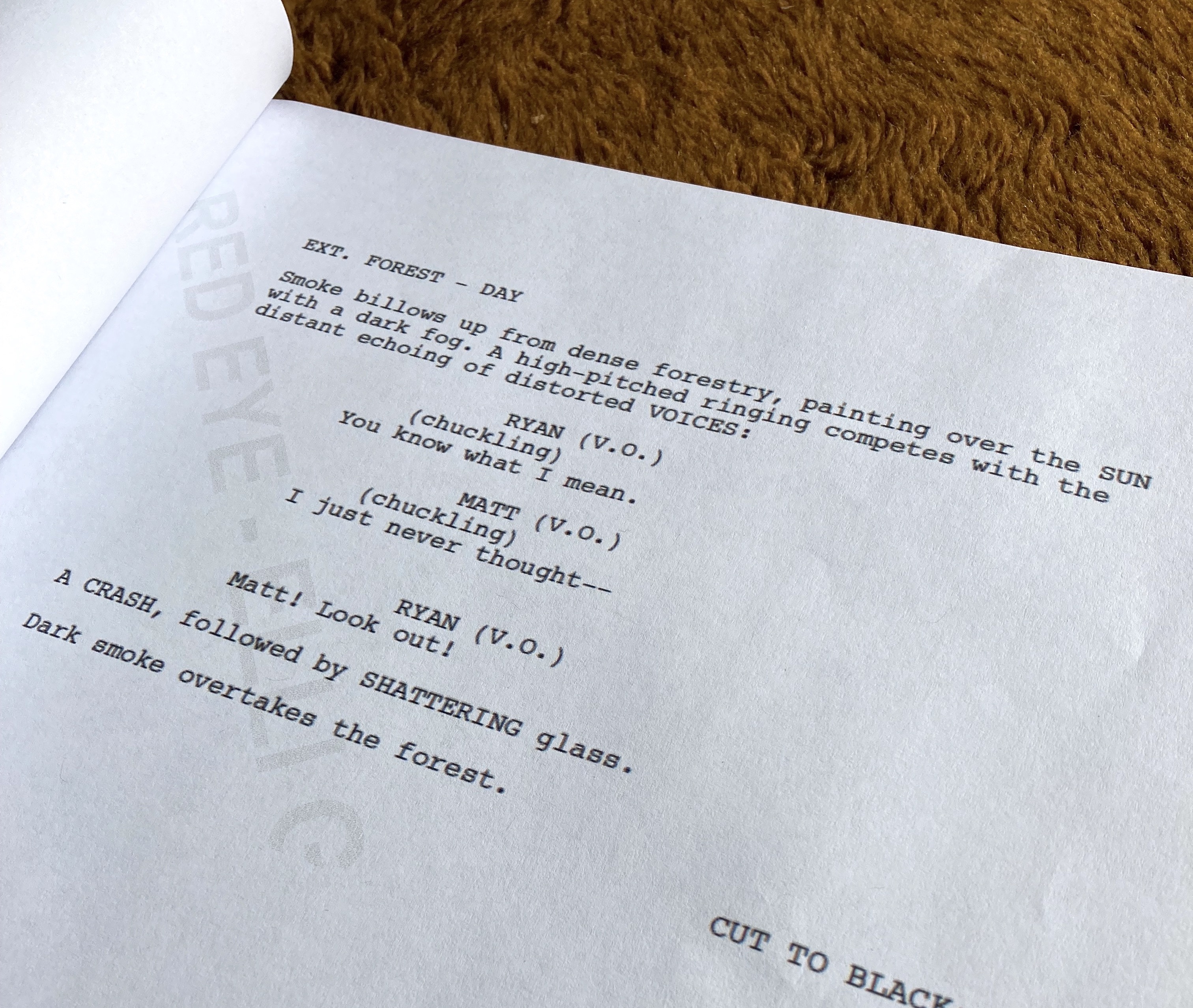 A piece of a Gifferson screenplay
After returning home, I completed my internship and spring courses remotely. Shortly thereafter, I began working in childcare to pay for the upcoming school year. Although I tried to find the energy and motivation to write and develop new stories, my heart lost its drive amidst everything going on in the world. I spent the majority of my summer going for long drives and looking for inspiration I could never seem to find. But sometimes God's plan takes you down the most unexpected of roads in the direction you were always going but never knew.
August brought tragedy, the reminder to cherish family, the deepest of loves and joys and memories, a closer relationship with Christ, and blessed introductions to people who have changed my life. August taught me that first and foremost writing is a vocation, a passion to pursue not a pressure to force. I realized that so much of my life centered around the future rather than living in the moment with God. Thus I stepped back from writing for almost a year to focus on living my faith more strongly, deeply, and actively. Since then my inspiration has come from seeing and witnessing Jesus in the goodness of people. My hope is that in returning to my writing I will be able to share their stories, some of which I have already started working on.
Therefore as I continue to pursue my passion for writing as a vocation I am excited to collaborate with and meet new people, but I am most looking forward to spreading God's Word. Though I anticipate that there will be obstacles along the way, particularly regarding time management and balance, I am thankful for the opportunity to use my gifts to serve God. Over the past year I have grown closer to becoming the person God made me to be and I have witnessed His presence and plan in my life more than ever before. Every day God continues to guide me in surrendering to and trusting in the goodness of His plan. He leads me to choose love over fear and to find beauty in even the most broken of places. Going forward I hope to use my resources and abilities to accomplish as much good as I can in service to Christ. I pray that as I share true Christian stories audiences will be inspired to further strengthen and actively live their faiths. Likewise I hope that in writing such stories I will be able to build close relationships and to seek more opportunities for outreach and service work. My ultimate aspiration is to work in the Christian non-profit sector and I especially look forward to exploring Christian music, public-speaking, and storytelling. Given the life-changing values and priceless path of the past year, I can only imagine where God's plan will lead me next, but I am excited for the journey.
---
Translate this page into your language
Return to original language with "show original" button at top left.