What's Happening?
In the last year over 800 micro-SD memory cards have traveled to mission fields around the world. They are carried by mission workers and installed on villagers' cell phones in remote places.
These cards are loaded with the New Testament, the Jesus Film, Academia Cristo studies, songs and Bible helps. These are recorded in native languages, making the gospel accessible to people who can't read or don't have a pastor nearby.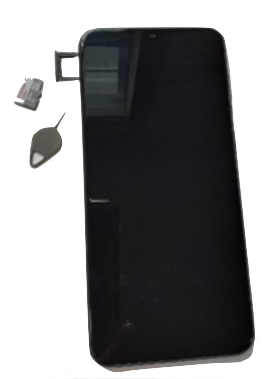 Why Is It Happening?
There are 300 billion cell phones in the world today. People who live in huts without floors have them. People who live in jungles and remote villages have them. Therefore, putting the Good News on phones is one more way to reach people who desperately need a Savior.
Who Is Making It Happen?
The Lutheran Church (Wisconsin Evangelical Lutheran Synod) has a fund designated for audio Bibles, and that is where I enter the picture. I am a retired technical college teacher, now a one-woman duplicator of the cards. I haven't heard of any other volunteers like me, so I think I am an example of how someone outside of an organization can do global mission work.
Here's what I'm not:
Employed by a church organization
A pastor's wife
Offspring of a long line of church workers
Synod trained (Does four years at a Lutheran high school count?)
Trained in technology
If I were looking for a candidate to do what I'm doing, I wouldn't have hired me. Therefore, it continually strikes me as funny that I sit at my computer in safe, sanitized Wisconsin and connect with mission workers on the other side of the planet.
I'm such an ordinary, unlikely mission worker that I am proof of what God can do with anyone. All I did was say, "I'm available," and amazing projects like SD cards have fallen into my lap.
How Is It Happening?
Techno-Stuff and Materials:
Laptop with SD port
Micro-SD adapters
Duplicator

Micro-SD card adapter flash drives

Micro-SD memory cards

Jewel cases
Labels to identify which language is inside

Websites from Which I Download Files:
Academiacristo.com
The Process:
As an example, perhaps I get a request from Pastor John Roebke for cards with the New Testament in Chichewa. (Thanks to John for walking me through the techno part.) The following is what I do:
1. Go to Faithcomesbyhearing.com.
2. From the menu at the top, hover over "Audio Bible Resources."
3. Click on "MP3 Downloads."
4. Fill in the language (Chichewa) and the requested information.
5. Click "Download."

6. Once the file is in the download file on my computer, unzip it and save it.

7. Insert the mini SD card into the adapter.
8. Insert the adapter into the computer's SD port. It will pop open in D drive.
9. Copy the file from my computer to the SD card.

10. Remove adapter.
11. Take the SD card out of the adapter.
12. Insert it into the micro-SD card flash drive.
13. Insert flash drive into the "source" slot of the duplicator.
14. Insert empty SD cards into additional micro-SD card flash drives.
15. Insert drives into the target slots on the duplicator.

Items will automatically start copying. When the duplicator beeps, the cards are finished. Remove them and put them into labelled jewel cases. Labelling is crucial, or soon you'd have a big pile of unidentified cards and a big headache trying to figure out which are empty and which are ready to send.
What Are the Results When It Happens?
I have no data about the ultimate results of installing these cards on phones. Most mission workers are too busy to give me reports, nor do I expect them. But Missionary John Roebke of the One Africa Team did provide an account of how he distributes the SD cards. You can read his report, if you wish, below.
But detailed reports about results are not necessary for me. I am merely a link in the gospel chain, and I am satisfied that God's Word will not return void. In my imagination, however, I see a man in Africa, sitting on the ground in a remote village. He is holding a cell phone in front of him. A half dozen little kids are draped over his shoulders, wiggling under his arms, climbing on his lap to see the Jesus Film. They are excited and filled with wonder as they watch God's plan for their salvation unfold.
##
---
Digital Discipleship
by John Roebke
On my last trip to Kenya in November 2019 I was carrying five solar-powered mp3 players in my luggage. These devices, which cost around $50, came preloaded with audio recordings of the Bible in Swahili and in English. When the Nairobi airport scanners flagged my luggage as containing electronics, I ended up giving one of devices to a customs officer who asked me for it. While I don't begrudge giving anyone the Word of God, it seemed to me that there must be a more cost-efficient way of delivering audio Bibles to people in Africa.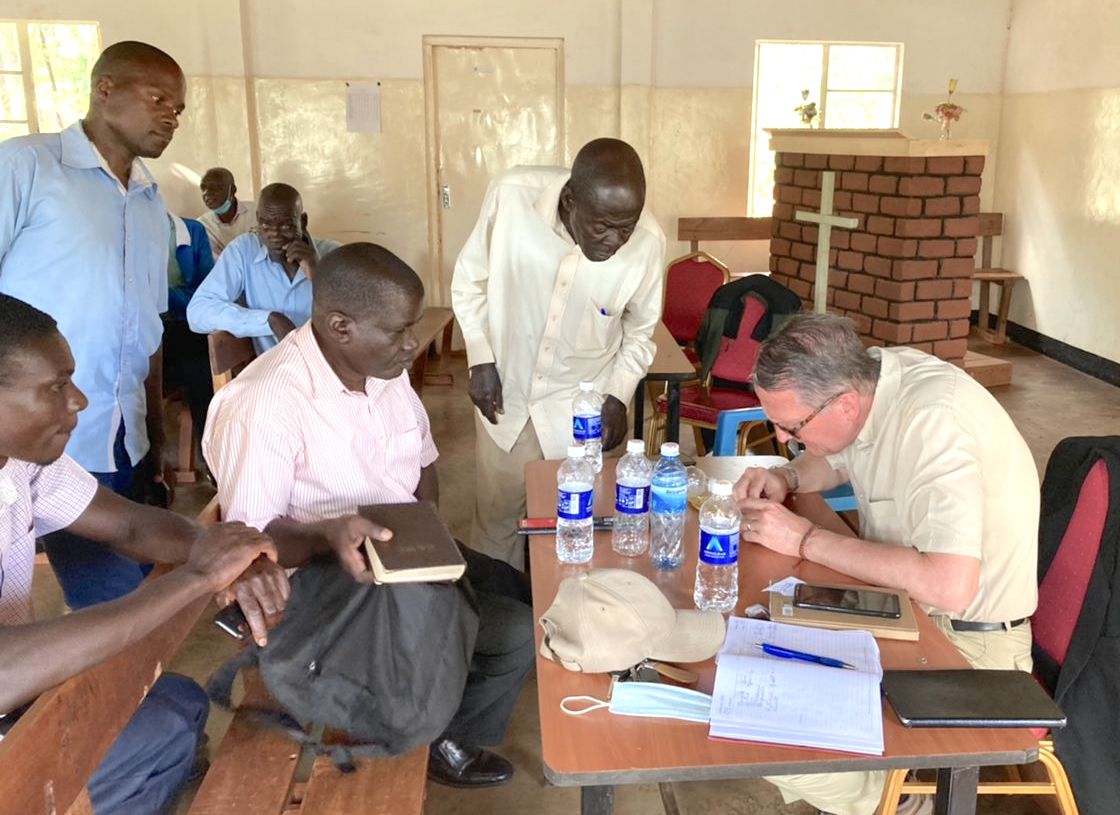 installing cards in phones
A document, "Your Phone, God's Glory" on the Mobile Ministry Forum website gives detailed, step by step information on how to share Christian digital content using mobile phone technology. One of the chapters deals with using pre-recorded microSD memory cards to share Bibles and devotional materials that people can insert into their mobile phones. According to the World Bank and African Development Bank there are 650 million mobile users in the Africa . Most mobile phones have a built-in speaker and an earphones jack, so there is no need to provide an additional device dedicated to playing audio Bibles.
Our team decided to focus on distribution of audio Bibles and the JESUS film made by Campus Crusade for Christ. The website offers free downloads of audio Bibles in over 1,300 languages, and the website www.jesusfilm.org offers free downloads of the JESUS film in 200 languages without any copyright restrictions for non-profit use.
For our trip to Kenya in August 2021, Rosie Bunnow prepared about 70 microSD cards in Swahili and English. She downloaded the files from the websites and copied them using a card replicator she bought online for about $100, then sent the cards back to us in Africa with a missionary returning from his stateside furlough. I carried the cards with me to Kenya in my luggage, which was not flagged by the airport's security scanners.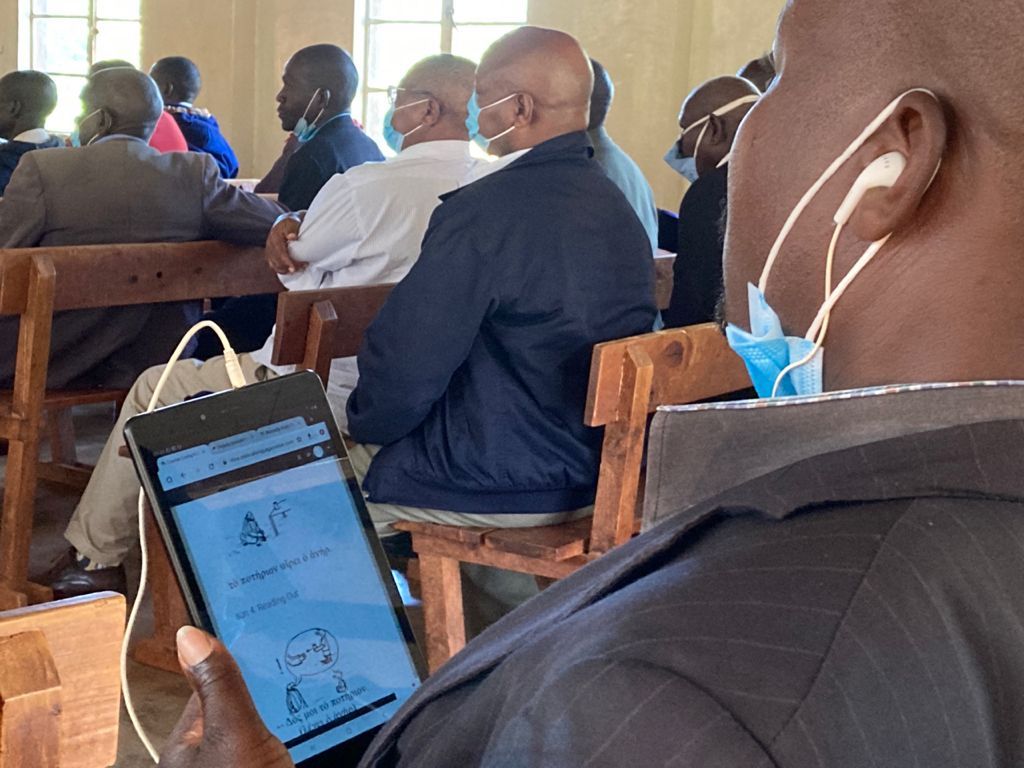 technology at a conference
My fellow missionary Howard Mohlke and I had planned to visit the Kenya field to meet with local leaders at two separate conferences in the country. This gave me a perfect opportunity to distribute the cards to those in attendance. The cards were a big hit in both places, and almost everyone's phone or tablet had a memory slot. Some of the card slots were under the phone battery, so I had to remove the phone's back cover. Other phones had a tray that ejects when a metal pin is inserted into a hole. Since I forgot to bring a pin with me, I improvised with a staple that I straightened out with my pocket tool.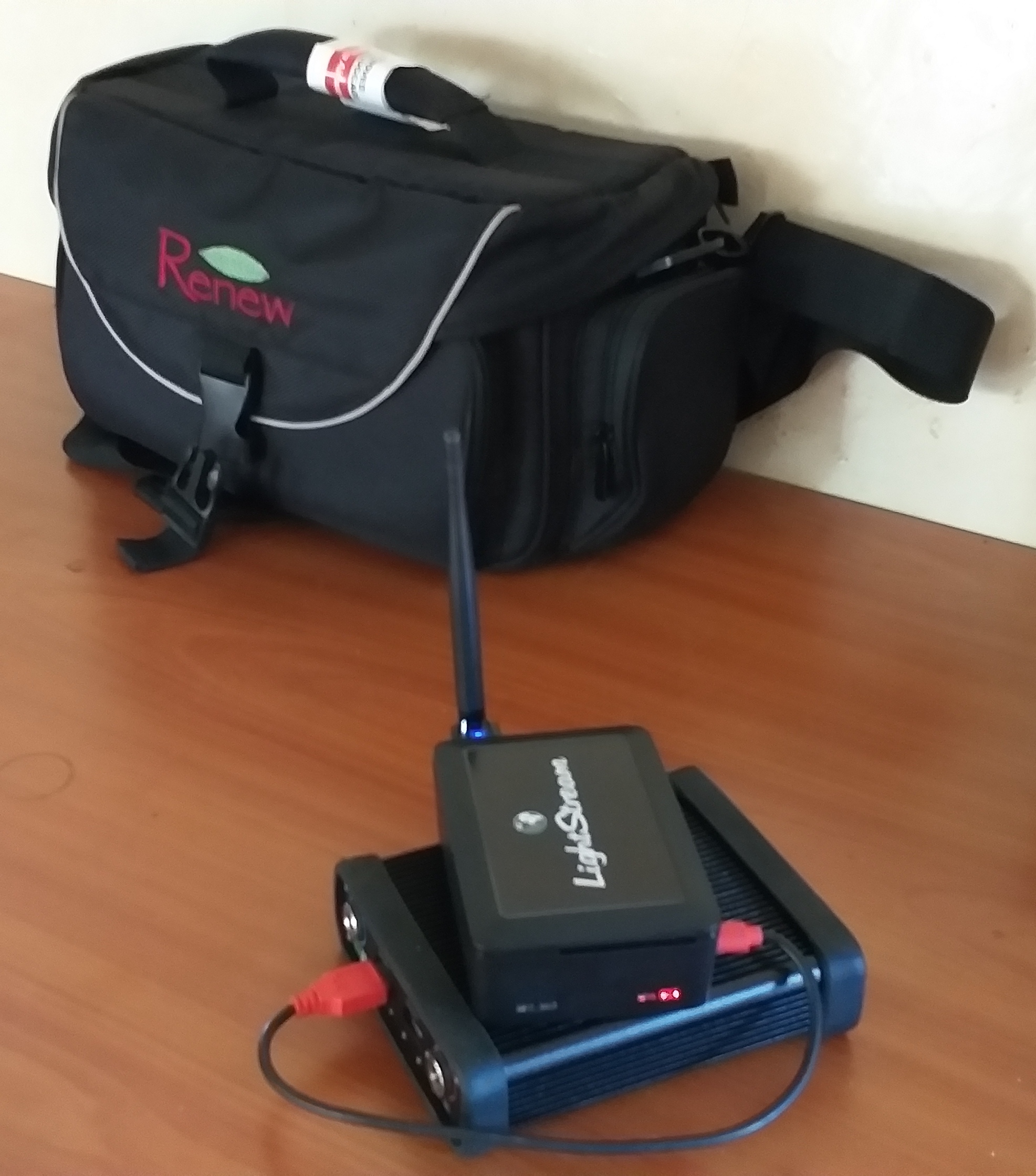 digital library hub
Immediately after we installed the cards the room was filled with the sounds of the Bible and the JESUS film, because all the phones had apps that could access the files. Each card came with 8 GB memory capacity, of which half was taken up with the prerecorded content. That allowed users to download other digital content that I had brought with me on a separate device, a local wifi hub that serves as a digital library with 160 GB of Bible commentaries, movies and music. WELS MLP gave one of these devices to both the Malawi and Zambia mission fields back in 2018, and we have used them to distribute digital content at various pastors' gatherings throughout those countries. I hope to return to Kenya again with my digital library to give people another opportunity to browse the titles and download more content.
---
Translate this page into your language
Return to original language with "show original" button at top left.